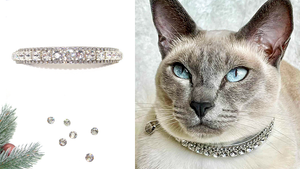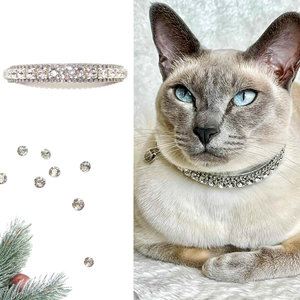 Sparkle in diamond clear crystals
Lovingly handmade to order
Welcome to The Kitty Bling Boutique. We sell luxury cat & kitten collars that are all handcrafted using the finest crystals & materials.
Features a Breakaway Safety Buckle
Diamonds For Kitty Klip Crystal Cat Collar
Made to the exact neck size of your cat & fitted with a safety breakaway side release Kitty Klip buckle
Shop
What our customers say...
These crystal collars are a masterpice, Princess wears them as a royal looking amazing! she knows what shes wearing. Thank you Kitty Bling i love your store loads

Marz Cortez

Mexico
I love this beautiful cat collar, my ragdoll can be found easily in the house now and I love the shine the crystals have. My father thinks we should change her name to Duchess. Thank you!

Emily

NSW Australia
I bought an amazing custom designed collar for my baby Tibby for her birthday and it was better than I could ever have imagined I will be buying a collar from kitty bling every year as I'm never ever disappointed xxx

Samantha Asquith

Abergavenny - UK
I received my beautiful kitty collars today and they are the most spectacular "kitty collars" I have ever seen!! I am in love with them and they look amazing on my little Siamese babies. I will be ordering more for my mother's kitties soon. Thank you for all the love these are made with...it shows immensely :) I will definitely remain your loyal customer for life!

Cinda

United States
My cat and also I love so much this elegant blue "Swarovski" crystals collar. My cat like to use collar and bears beautifully on the neck. The collar emphasizes the cat eyes and white coat. My lovely female Sacred Birman chocolate point and blue eyes called "Taika" So beautifully handmade and the giftbox.

Anne Rinne

Finland
These collars are worth every penny. My old lady, Robbie, wears the peridot, my 5 yr old, Ellie, wears amethyst, and my baby Allyson, or Allie, just graduated to her ruby and pearl collar! The girls look like the stars they are and the collars are so comfortable!

Karen Breitwieser

Florida, USA
Would like to say a big thank you for our collar, looked good in the picture but absolutely stunning when it arrived, it came really fast too, we don't collect our kitten until 29th March, and plan on buying many more collars for her.

Susan Caple

Teignmouth - UK
Sarah, we received our orders today!!! There are no words to describe how beautiful our new collars and how happy we are. Amazing sparkle, high quality and so much in details. We are in love with your product. Thank you, thank you, thank you....

Lyudmyla Young

UK